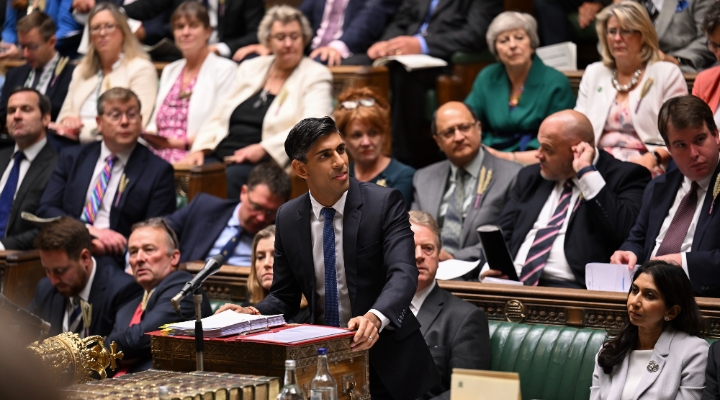 UK consumer price inflation cooled dramatically in October, according to data from the Office for National Statistics (ONS) on Wednesday.
The ONS said consumer prices rose 4.6% annually in October, dropping sharply from the 6.7% pace recorded in September. The reading was lower than the market consensus of 4.8%, as cited by FXStreet, which was also the forecast from the Bank of England (BoE).
The annual rate was the lowest since October 2021, and means UK Prime Minister Rishi Sunak has fulfilled his pledge to halve inflation to below 5.4% by the end of this year.
Inflation's recent peak was 11.1% annually in October 2022, which the ONS estimates to be the highest since 1981.
On a monthly basis, prices were unchanged in October, having risen 0.5% in September from August. October's reading was below market consensus of a 0.1% rise.
"The easing in the annual rate between September and October 2023 was a result of prices remaining the same on the month compared with a rise of 2.0% a year earlier," the ONS explained.
The largest downward contributions on a monthly basis were housing and household services, as well as food & non-alcoholic beverages.
Core consumer prices, which exclude energy, food, alcohol and tobacco, rose 5.7% annually, losing steam from September's 6.1%, and undershooting forecasts of 5.8%.
Separately, the ONS reported data for producer input prices.
On a monthly basis, producer input prices rose 0.4%, after rising 0.6% in September, which was revised upwards from 0.4%.
Annually, producer input prices declined by 2.6%, falling at a faster pace than the 2.1% in September, which was revised from a what also had been a 2.6% decline.
"The largest downward contributions to the annual input inflation rate in October 2023 came from inputs of metals and inputs of chemicals," the ONS commented.
By Elizabeth Winter, Alliance News senior markets reporter