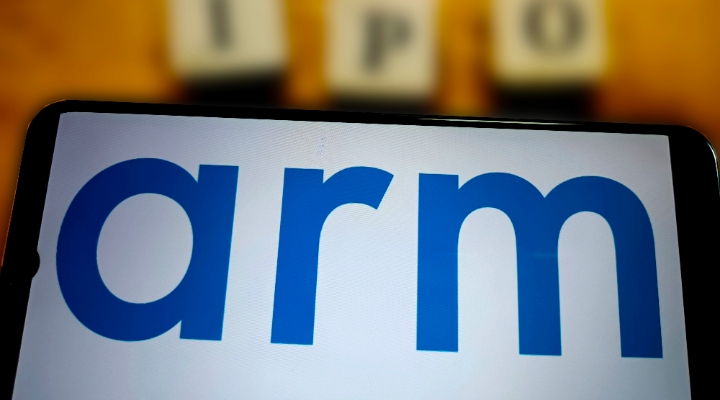 Arm Holdings (ARM), the UK semiconductor company that went public on the Nasdaq last month, has not quite seen its share price take off, despite being one of the most hotly-anticipated IPOs of 2023.
The company floated at $51, soaring to highs of $69 at its peak during the first day. However, the chip designer is currently hovering at around the same price it issued its first shares at: $51.78.
After an IPO drought in many markets, investors rushed to secure a piece of the pie, and several funds decided to make the company a key holding in their portfolios. In this article, we outline the biggest fund holdings globally.
For context, Morningstar believes the current (and so far stagnant) share price is too high. On Monday, we initiated our coverage of Arm, assigning it a Wide Economic Moat rating and a $34 Fair Value Estimate.
Morningstar's equity analyst Javier Correonero says: "we struggle to justify Arm's lofty IPO valuation despite its good growth prospects. […] Our forecasts remain slightly below FactSet consensus, and we see the shares overvalued. Despite having a very strong business model Arm does not come free of risks, and thus we assign a High Uncertainty Rating."
You can read more about Morningstar's take on Arm in this article.
Arm architects, develops, and licenses high-performance, low-cost, and energy-efficient CPU (central processing unit) products and related technology. Its primary product offerings address diverse performance, power, and cost requirements, but the company also offers products within GPU (graphic processing units), System IP, and computer platforms.
Morningstar's Wide Moat rating is underpinned by switching costs and intangible assets – switching chip architectures can take years and cost millions of dollars for a company.
Who Are The Largest Fund Investors?
We have collected three lists for Arm holdings: the 10 funds that hold the largest number of shares globally, the 10 largest number of shares in Europe, and the five funds with the largest portfolio weighting to the stock.
For all three lists, the Ireland-domiciled, Gold-rated GQG Partners US Equity fund is at the top. The fund has bought almost half a million shares in Arm, worth around $26 million and $2.31% of its portfolio. The strategy invests largely in technology, which accounts for 42% of its portfolio, but while it might be the largest Arm investor among funds globally, its allocation to other stocks is a lot higher: its biggest holding, Nvidia, takes up 8% of its portfolio.
Goldman Sachs' Luxembourg fund Global Future Technology Leaders Equity holds the second largest Arm stake: 441,088 shares, worth $25 million, and 1.06% of the strategy's portfolio. As the name states, the fund invests in tech stocks globally – its biggest holding is KLA Corp and Marvell Technology, both at 3% each.
The rest of the list consists of five US funds and another three funds based in Luxembourg.
The two funds previously mentioned are the only two European funds that bought eight digits worth of Arm shares, but another 12 funds in the wider region bought at least $1 million worth of stocks, based on its current market value.
In total, Morningstar Direct has revealed 35 European funds with Arm holdings. Surprising no-one, many are Luxembourg funds, but Sweden, the UK and France are also among the top half of Arm share buyers internationally. Goldman Sachs also has a further two funds in this list.
Finally, we take a look at the funds with the largest exposure to Arm – only two funds have decided to allocate more than 2% of their portfolio to the chip maker. Beyond the prevailing GQG Partners fund, we find Inverse Cramer ETF – the somewhat controversial ETF that seeks to provide investment results that are the opposite of tips made by US television personality and former hedge fund manager Jim Cramer.
The list also includes both the American and the Irish version of the First Trust IPOX Europe Equity Opportunity ETF, which have both purchased enough Arm shares to account for 1.22% of its portfolio.