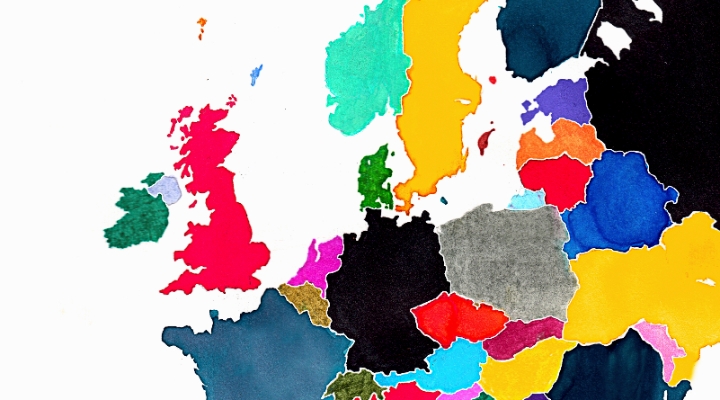 For our income special report week, we've whipped out the atlas and cast our gaze beyond the borders of our normal UK income search. Which countries and companies are more likely to offer high yielding opportunities?
In a period of high inflation and soaring interest rates, high yields are even more prized by investors. Getting an extra few percentages on your return can make a big difference.
UK investors have recently seen cuts to the dividend tax allowance, affecting those investing outside of the ISA wrapper, but income remains high on the agenda for many. As such, we run a monthly list on the top yielders in the FTSE 100. A key feature in this article is consistency – something we'll be discussing in a bit.
The balance between high yields and consistent income can be hard to strike so we've created not one, but two maps of the highest dividend payers in Europe.
To identify our stocks, we have used Morningstar Direct to select European companies that have paid dividends at some point since the start of 2022 and have an expected dividend yield (the formula for calculating dividend yield is to divide the annual dividend paid per share by the current stock price).
Yielders of the Moment
At the moment, the highest-yielding markets are Norway, Hungary, Romania and Iceland. On average, Norwegian stocks offering dividends are expected to yield 17.83% – much of this due to a few stocks.
PasientSky (PSKY), for example, is currently yielding 480%. The healthtech company recently sold two of its subsidiaries and is paying out NOK 2.50 (19p) per share (while currently trading at NOK 0.52). It's a similar story for the second-highest yielder in the country, Hunter Group (HUNT), an oil and shipping investor that has just sold its last oil tankers. As a result, it's paying out special dividends, bringing expected yield to 457%.
Meanwhile, the highest yielder of all, French Neocom Multimedia (MLNEO) has sold its business and is liquidating, paying out a final dividend of €2.10 per share. According to our data, this makes for a 700% expected yield.
There's only one Morningstar-rated stock in this top list and that's shipping giant Moller Maersk (MAERSK) in Denmark, yielding 16.56% and trading below what we believe is its fair value with a 4-star rating.
What About the Longer Term?
When we look at the five-year average yield, the picture is a lot more muted – and the yields overall lower. The highest average for one country lies with Bosnia and Herzegovina, and that's mainly because we only see one stock there with a five-year history of paying dividends, with no other stocks to balance out the yield.
As my colleague Danny Noonan explains, a high dividend could indicate a cut may be looming, and investors may be making a mistake if they simply choosing companies that offer the highest yields. Our recent survey of real estate investment trusts and housebuilder shares in the UK shows some chunky yields on offer – but these follow some heavy falls in share prices in 2022. (Yield is a function of share price: when the price goes up, the yield goes down, and vice versa.)
When seeking out dividend-paying companies, it's important to know whether the dividend has risen over time – an economic moat may give you an idea whether a company will continue to do this.
In our map below of the companies with the highest average dividend over the past five years, only one company has been assigned an economic moat by our analysts (out of a total of four rated stocks): Proximus SA (PROX), the Belgian telecom operator. It has a narrow economic moat and is trading in 5-star territory after its share price was slashed in half last year.
The other three rated stocks are Spanish Telefonica (TEF), Switzerland's Swiss Re (SREN), and UK's Persimmon (PSN) – 4, 4 and 5 stars, respectively. Persimmon, a bellwether for the UK housing market, lost 57% last year as investors priced in a housing crash. Despite a tentative recovery so far this year, the shares are considered to be significantly undervalued according to Morningstar metrics.
For the UK, we're hovering just below the median for five-year averages. All the three top yielders (Persimmon is joined by Sword Group and Hansard Global) have paid an average dividend of over 10%, but the overall average is 3.26%. The housebuilder did, however, issue a profit warning in March and said it would slash its dividend by 75%.
As my colleague James Gard explained in a video at the time, this year's outlook for Persimmon is gloomy, with forecasts for a big drop in home sales as the housing market slowdown accelerates. Morningstar analysts have lowered their profit forecasts and fair value estimate after the results – and as mentioned, the analysts now insist that shares are undervalued.
Besides Bosnia and Herzegovina, Lithuania and Slovenia have the highest 5-year dividend (9.29% and 7.49%).
In the expected yield map, we see Spain represented by all real estate investment trusts in the top three. SOCIMIs, as they are called in Spain, by law distribute 100% of profits from dividends and at least 50% of profits from the transfer of real estate and shares in subsidiaries. Plus, they have to distribute at least 80% of the rest of the profits too.
But even here, these stocks fall off the top three in the longer term, getting replaced by media and telecoms, among others.