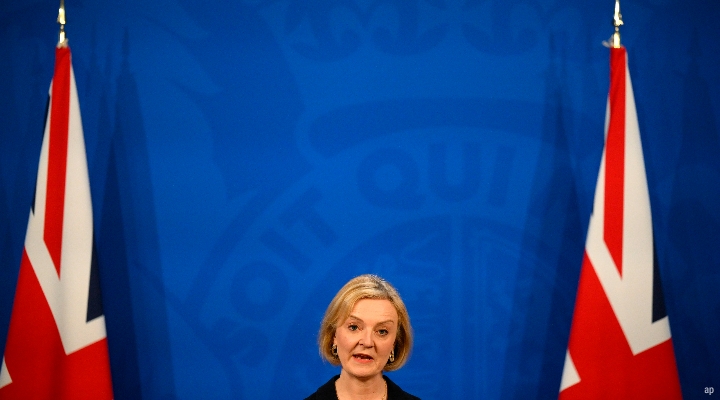 UK government debt could be downgraded by DBRS Morningstar after the "considerable turmoil" of the last few weeks.
In an unscheduled intervention, Morningstar's credit arm DBRS said UK government debt was now "under review with negative implications," and cited "the absence of clarity on the UK's fiscal plans, concerns about UK policies, ongoing and considerable turmoil in the UK government bond market"
DBRS Morningstar currently rates UK government debt as "AA (high)", denoting superior credit quality and low vulnerability to future events. With such a description, the capacity for the payment of financial obligations is considered high, and the credit in question differs only slightly from AAA.
However, a downgrade could now take place if the organisation concludes that the recent deterioration in the UK government's fiscal credibility and predictability has a lasting impact, or if additional shocks have a more material adverse impact on the UK economy and the government's fiscal accounts – including an increased likelihood of a break-up of the UK into separate sovereign nations.
Morningstar DBRS may also maintain its current rating "if a credible fiscal plan shows the public debt ratio decreasing over the medium term", or if financial vulnerabilities remain contained.
As we went to press with this story, prime minister Liz Truss was in talks with Conservative Party 1922 Committee chairman Graham Brady about her future.
It's all a consequence of the so-called "mini-Budget" in late September, which forced the departure of chancellor Kwasi Kwarteng after bond markets, pension funds, and the mortgage industry reacted to a raft of planned unfunded tax cuts. The saga has left the party in disarray over Truss's competency. Last night the home secretary Suella Braverman resigned over a separate security matter, but wasted no time in having a pop at Truss in her resignation letter.
Other MPs have said they are "livid" amid what appears to be a second Conservative political meltdown this year.
"Before the mini-budget, the UK's fiscal position was improving," DBRS says.
"According to the International Monetary Fund, the fiscal deficit fell from 12.8% of GDP in 2020 to 8.0% in 2021, with its latest forecasts pointing to a deficit of 4.3% in 2022. On public debt, the government debt to GDP ratio had also started to fall from a peak of 103% in 2020 to 95% in 2021, with the IMF forecasting 87% in 2022.
"However, in view of updated fiscal measures, these forecasts are set to change. It is unclear if the government will make changes to its fiscal rules contained in the revised Charter for Budget Responsibility adopted in November 2021."
DBRS Morningstar is the world's fourth-largest credit ratings agency. It was acquired by Morningstar in 2019.