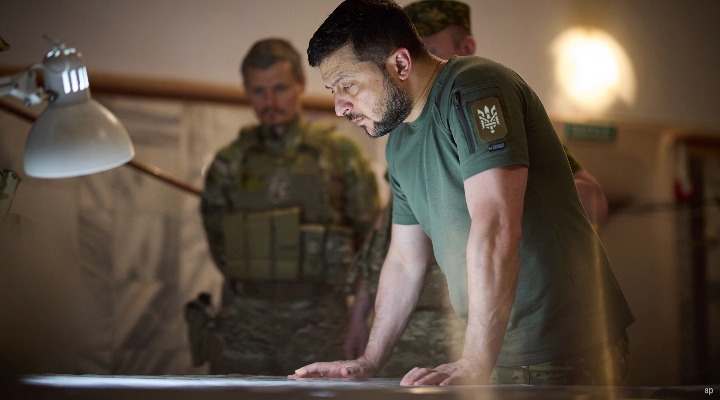 This article contains mention of war crimes. Reader discretion is advised
I've thought of Joe a lot in the last six months. A close friend of mine at school, he and I spent the best part of two years playing music, talking politics, and mastering video games in his attic. His house was a regular retreat at the end of the school day.
Life has moved on for us both. When I last saw him I was heading into my final year at university. He was eyeing up postgraduate study. He's now married, to Iryna, a Ukrainian he met in Vietnam, when they were both teaching English.
Today, Iryna and Joe are safe in the UK. She has given him her blessing to speak on their behalf about the war in her homeland. Both are horrified by what has happened, and the war crimes committed by invading soldiers.
"We have a friend and their parents live in east Kyiv," Joe says.
"We've heard the stories about how the different waves of soldiers would treat people differently; in the end they were just killing, raping, and robbing anyone.
"Seeing other districts of Kyiv we've been to countless times on fire or being bombed is just gut-wrenching, but it's also completely surreal. To us, it's not a place of war. It's a building or a shop we'd go to, somewhere a friend lived, or a place you'd pass on the way to work."
No Deal
That surreal feeling is pronounced for Joe and Iryna, who have travelled the length and breadth of Ukraine as a married couple. But it's also rapidly changed the game for European countries spooked by the outbreak of war on NATO's doorstep.
Within days of the invasion, western European complacency about peace on the continent was shattered, as Second-World-War-like scenes of urban streetfighting and burning tanks saturated television screens and gave countries formerly happy to cut their defence budgets a new reason to be worried. Defence budgets are now suddenly swelling.
But while many column inches have been devoted to the politics of the conflict, much less has been said about rebuilding the country. That's understandable to some degree, as the fight is already a protracted one. Ukraine is technically a standalone frontier market, according to MSCI. How it re-emerges from war is clouded in uncertainty.
On March 22, Morningstar analysis of big tobacco's Ukrainian exposure remarked the conflict would likely last around six months. We are now more than four months in and there is no end in sight.
Estimates regarding the impact of the war on the country's gross domestic product (GDP) vary too. The World Bank said in April that Ukraine's economy would shrink by around 45% in 2022, depending on the duration of the war.
In all likelihood, president Zelenskyy's communications strategy is a reflection of this.
In attempting to appeal to as many groups of people as possible, he is building emotional stakes in a conflict that will require long-term support from Ukraine's allies long after their warm words have cooled off. In the process he is also developing the case against any form of surrender to Russian aggression. It is hardcore no-deal politics.
But there's one group of people the former comedian and Dancing With The Stars winner has been keen to woo, and it's not politicians or voters.
A Different Narrative
In the past four months, Morningstar has devoted much coverage to business activity in Ukraine, and the picture we have painted has largely been agricultural.
Justifiably so. Together, Russia and Ukraine account for 29% of wheat exports, while Ukraine alone is a top exporter of corn, barley and other grain.
The MSCI Ukraine index also reflects this fact, and consists of only two companies: Kernel Holdings, Ukraine's largest exporter of sunflower oil, and MHP, a large poultry company.
There is, however, another story, and that is technology.
According to the Ukrainian government, there are more than 4,000 technology companies in the country, and more than 184,000 software developers among its population.
The IT industry has grown by nearly 46 times over the last 17 years, and, by 2020, was worth around $5 billion. Several big technology brands have chosen Ukraine to host their European offices, including Snapchat and Ring, which was acquired by Amazon in 2018 for $1 billion.
In his own indomitably innovative way, Zelenskyy this month used holographic projection technology to appear at several European technology conferences to appeal for inward investment to assist his country.
New Norms
The conversation is moving on in other ways, however. Talk of tech entrepreneurs has quickly been replaced by talk of "norm" entrepreneurs, whose innovations are creating new normalities in the way we live and interact.
Across the world, that has already happened in so many ways, and at all levels of technological development; from the back-end infrastructure to the behavioural and habitual changes visible at the front end. Ukrainian society has been no different, except to say the war has accellerated those norms, and highlighted them to the world.
When Russia invaded, Ukrainians took to TikTok to help eachother and inform themselves.
Viral videos showed everything from how to start the engine on stolen Russian armoured personnel carriers, to examples of Russian disinformation and military intelligence.
And on the battlefield, privately purchased drones have helped an underdog army fight psychological warfare and maximise the effect of limited resources. Zelenskyy has weaponised technology at a personal and political level too, earning plaudits in the process.
With those changes embedded in the chaos of conflict, it would be foolish to underestimate Ukrainian technological hunger, let alone its military will to win. For Joe and Iryna, convincing the west of that is the central point. It's the only way to stop the killing.
"It's precisely why the west has to help Ukraine win as soon as possible, to end the suffering, and permanently."